Want to really "wow" your clients this holiday season? Don't just send a nice looking greeting, send one that stands out from all other cards — literally.
Our fun, multi-dimensional 3D holiday greeting cards make an impact on your clients by delivering much more of an experience than a traditional holiday card. These 3D cards feature pop-up pictures, spinning shapes and even stand-up displays that stick around on clients' desks long after the holidays are over. Each of our cards ship flat for affordability and convenience, and then perform by popping out, expanding, spinning or otherwise surprising in truly exciting ways.
Read on to learn more about the different types of 3D holiday cards we carry at Red Paper Plane (and why your clients are sure to love them).
StandOut Greeting Cards. These 3D holiday cards mail flat and become desktop displays just by pushing in on their sides. We offer a variety of StandOut Greeting Cards at Red Paper Plane, and you can customize them all with your own message to your clients.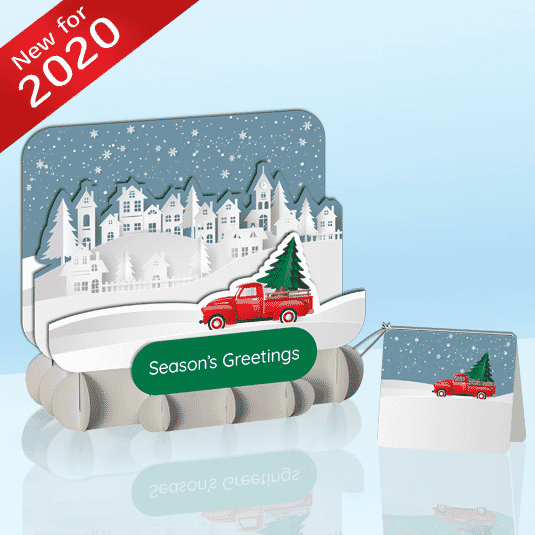 Pop Up Greeting Cards. Our Pop Up Holiday Cards feature die-cut characters or scenes that pop up when the card is opened. They are a fun surprise for anyone who receives them, and deliver a more elevated, dimensional look than traditional flat greeting cards. Offering a more interactive approach to sending a holiday card, opening our Pop Up cards bring clients back to the children's books they loved when they were kids.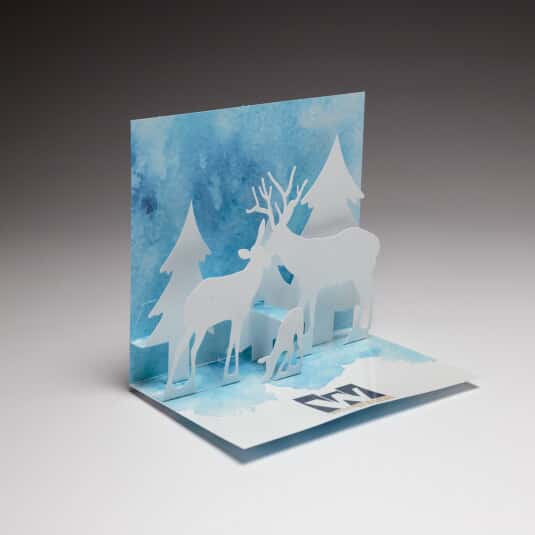 Holiday Globe Greeting Cards. A truly special, incredibly unique take on the classic greeting card, our Holiday Globe Greeting Cards stay on clients' desks long after the holidays are over. These 3D holiday greeting cards mail flat and expand into a snow globe shape when you press in on both sides. We have dozens of designs to choose from; trains, snowmen, polar bears, poinsettias and more. Personalize one of our existing designs with your logo and greeting or fully create your very own with your art and message.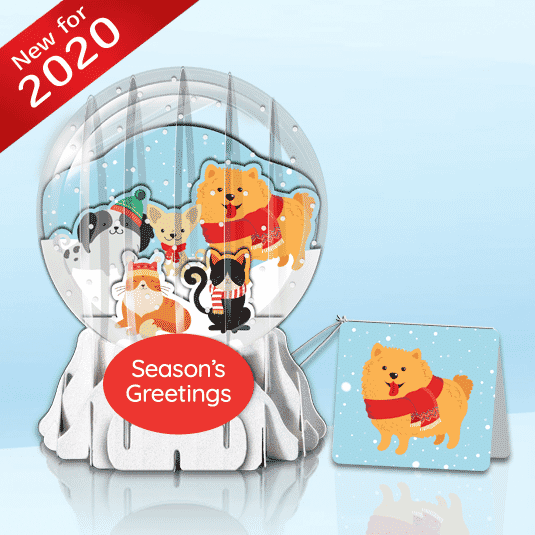 Spinner Holiday Cards. Deliver a more exciting 3D holiday greeting card with our Spinner Holiday Cards. These Z-fold greeting cards feature a die-cut shape that spins into dimensional shape when the card is opened. Choose from Snowflake, Tree, Diamond, Square or Circle shape. Each card is fully customizable by placing your art onto our easy-to-download templates. Whichever shape you choose, your clients are sure to love this entertaining departure from the classic bi-fold holiday greeting card.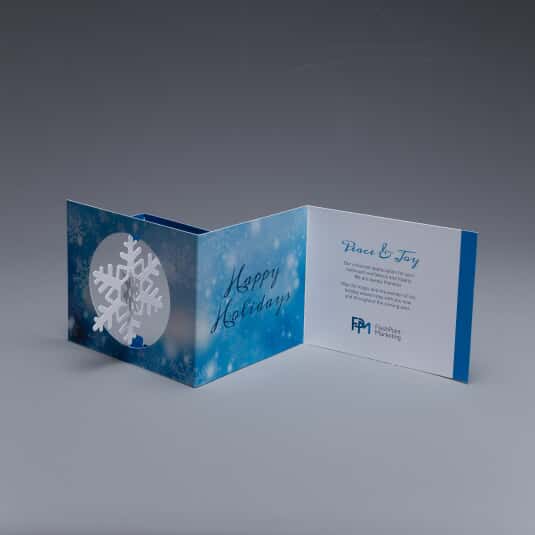 Get started on your B2B Holiday Greeting Cards for your clients today, so you can avoid the last-minute holiday rush tomorrow!