Who: Harger Howe Advertising
Their Industry: Agency
Their Audience: Physicians Searching for a Job
Their Challenge: To set their client apart from the other companies who may be hiring
Our Solution: Small Exploding Page
The Main Pro: The Small Exploding Page makes a creative statement that stands out from the crowd

Harger Howe Advertising has been in business since 1983, specializing in recruitment marketing. Their clients come to them to help build and reinforce their brand identity as an employer. The hiring market is extremely competitive right now with companies desperately searching for new ways to land employees. Harger Howe knew they had to do something different from the competition, so they turned to Red Paper Plane and found a winner in theSmall Exploding Page.
We had the opportunity to speak with Mike Walsh, President, and Owner of Harger Howe Advertising, about the project and what they were hoping to accomplish with the piece. Their customer, a member of the healthcare industry, was searching for physicians of a certain discipline. They were impressed by the Small Exploding Page because of its ability to fold out in many different angles, and it offered creative ways to display their message.
"It fit the bill with its creativity and allowed for a lot of customization but still fit the price point."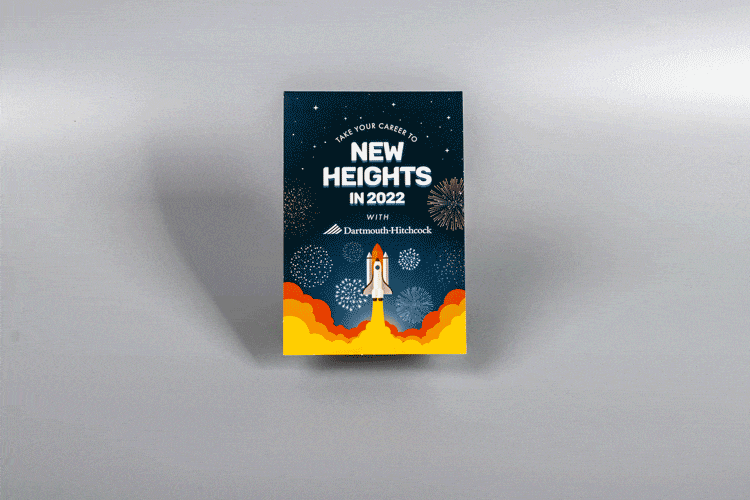 Not only were they able to advertise specific positions that their customer was hiring for, but they were also able to use the ample space to promote their presence at the AAD Conference where there would be upwards of 8,000 physicians attending.
Harger Howe has used traditional direct mail in the past, but they wanted something different that would set their customer apart from the competition. They wanted the target audience to receive something that felt and operated differently than anything else they may have already received. Usually, the people who accept the job must relocate. For that reason, the Small Exploding Page served two purposes: it spoke to the person that it was addressed to, and it spoke to their family that may need to help them make that life-changing decision.
The piece was a hit, and the client was thrilled with the final product.
"The clear cellophane outer envelope was nice and exposed the creativity of the piece right from the mailbox."
It immediately grabbed their attention and made an impact. It's no wonder Harger Howe has come back to place another order. We look forward to a long and happy relationship!