Moxie Scrubs Sees 55% Increase in QR Code Scans Thanks to Step-Pop Card Holder
Over the last year, Red Paper Plane partnered with the kind folks at Moxie Scrubs on a case study to determine how much our dimensional print pieces can outperform a flat postcard mailer. We provided Moxie Scrubs with 2,000 pieces they mailed to nurses all over the country. The first 1,000 pieces were flat postcards, while the other 1,000 were interactive Step-Pop Card Holders.
The goal of the mailing was to introduce the nurses to Moxie Scrub's new summer scrubs that were now available on their website. The direct mailers were a part of a larger campaign that included promotions on their website and digital advertising. We spoke with Shalom Suárez, Marketing Manager at Moxie Scrubs, who said they wanted to try a different marketing channel outside of their usual digital ads. They were excited to hear Red Paper Plane wanted to work with them on this case study and were even more excited to see the results.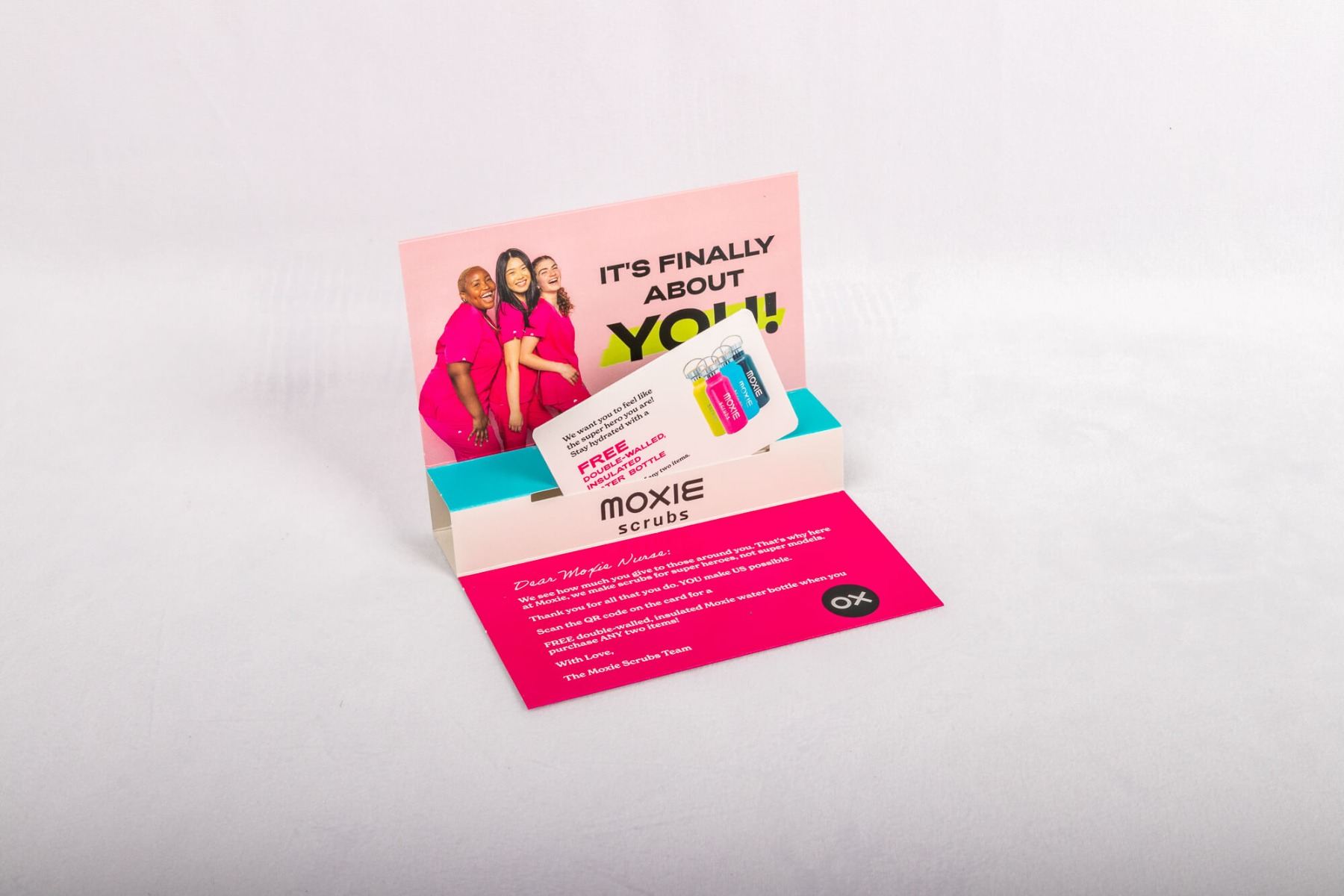 The results are in, and the Step-Pop Cardholder from Red Paper Plane exceeded expectations and outperformed the flat postcard mailer. The Step-Pop Card Holder saw 55% more scans on the QR code than the traditional flat postcard! Not only is there an exciting and eye-catching design, but the interactivity makes the Step-Pop Card Holder difficult to put down. It can even stand upright with the removable card showing, so Moxie Scrubs can always stay top-of-mind.
Results like that had Shalom and her team excited about what else they could do with Red Paper Plane, and they are already working to think of next year's design. We look forward to continuing this partnership for many years to come.
--
What is Experimental Marketing and Why Should You Care?
One of the hottest terms right now in marketing is Experiential Marketing, and more and more marketers are hopping on board the experiential train. So, what exactly is Experiential Marketing, and why should marketers and businesses utilize it?
Redpoint Global describes Experiential Marketing as "the process of creating a unique, meaningful experience with customers or prospects in order to change or reinforce their perceptions of a brand." Gone are the days when marketers could send out a generic one-way message that sells their products and services. Consumers today want to make a connection when they interact with a brand, and they're more likely to make a purchase when they do.
We've compiled a list of five statistics about Experiential Marketing that will have you running back to your marketing department with a new plan in mind.
Experiential Marketing is getting more difficult to ignore as consumers grow to expect this level of marketing. At Red Paper Plane, we offer over 150 interactive print designs that will elevate your marketing and take your recipients on an exciting journey. Order a FREE Sample Deck and experience them for yourself.
--
Design of the Month
The January Design of the Month is the Wonder Wheel Reveal from Oklahoma Attorneys Mutual Insurance Company (OAMIC). OAMIC is the only liability insurer owned and managed by Oklahoma attorneys for the benefit of Oklahoma attorneys. They have a small market, which means they have to do something big to stand out.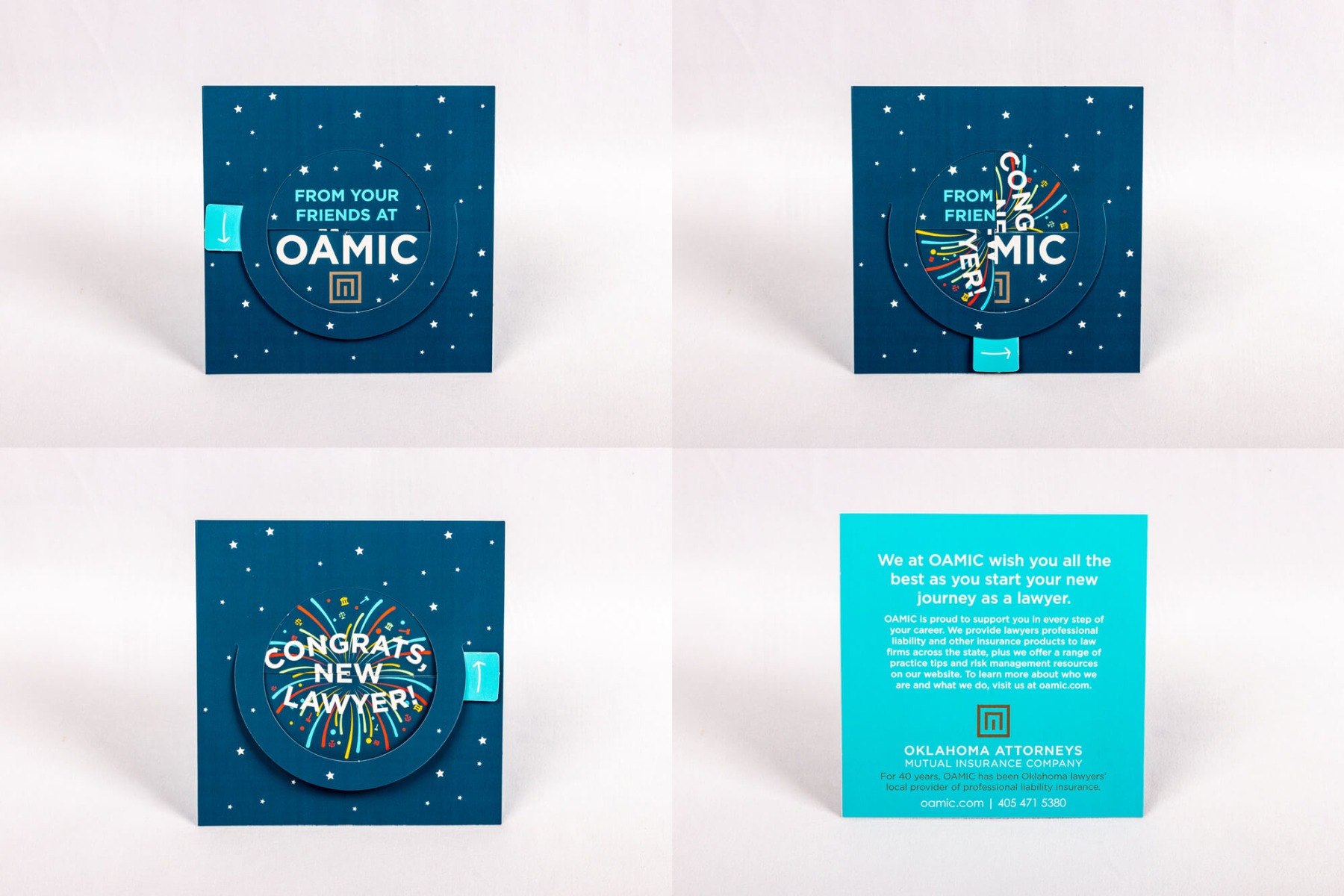 Since swearing-in ceremonies went virtual due to Covid, OAMIC knew they had to be creative when it came to marketing their services. They wanted to congratulate Oklahoma's newest attorneys while simultaneously introducing and educating the inductees about services that are available. Being able to communicate two messages in a direct mail piece is challenging, but the Wonder Wheel Reveal was the perfect solution.
Laura Stone, Director of Marketing and Communications Strategies at OAMIC had nothing but good things to say about the piece and is already receiving compliments from attorneys.
MarCom Awards:
This year, Red Paper Plane and Structural Graphics submitted seven pieces to be considered for a MarCom Award. The MarCom Awards is an international creative competition that recognizes outstanding achievements by marketing and communication professionals. Judges are industry professionals who look for companies and individuals whose talents exceed a high standard of excellence and whose work serves as a benchmark for the industry.
We are very pleased to announce that all seven of our entrants won either Gold or the prestigious Platinum honor!
Congratulations to all involved in making the following pieces an award-winning triumph and to the companies who delivered marketing magic to their recipients.
Gold Awards:
Digital Color Concepts, Inc. – 4-Page Brochure with Pop-Up
CU Certified – 7" HD Video Screen Well Box

Platinum Awards:
Rice University – Polygon Pop-Up Owl
Gaslight Creative - Flapper® - Large
CHG Healthcare – Wonder Wheel Reveal
Chinook Winds Casino Resort – Polygon Pop Up
Streck – Flipbook
--