Who: University of the Incarnate Word
Their Industry: Higher Education
Their Audience: High School Admissions Counselors
Their Challenge: Thank local high school counselors
Our Solution: The Hexagon Pen Pot
The Main Pro: The functional Hexagon Pen Pot pops into shape, displays six sides of messaging and holds pens and pencils.
Home to over 9,000 students, the University of the Incarnate Word (UIW) is the largest Catholic university in the state of Texas.
UIW wanted to send local high school counselors a special gift as a 'thank you' for working with them. Instead of sending just any gift, the team at UIW was interested in promotional pieces that the counselors could use on a daily basis. After seeing the Hexagon Pen Poton Red Paper Plane's website, they knew it had to be included.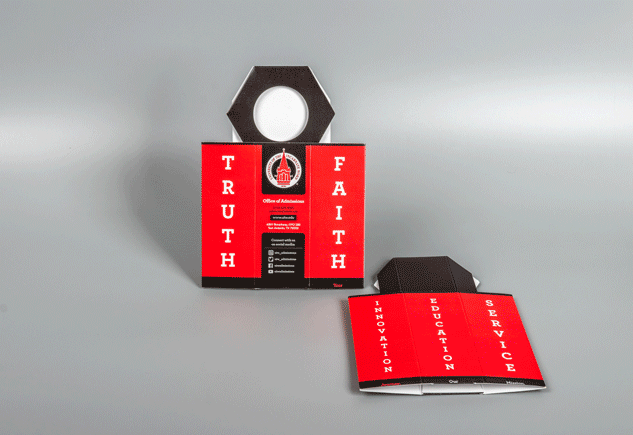 Jasmine DeLeon, Assistant Director of Digital Strategy and Marketing at UIW spoke with us about the Hexagon Pen Pot and the experience she had working with Red Paper Plane. She said that while there were a few designs on the RPP website that stuck out to her team, they thought the ample space on the Hexagon Pen Pot provided the opportunity to display their messaging and match the university's brand and style. With 6 sides to display messaging, we can understand what they mean.
Jasmine also commended how user friendly the design experience was. She spoke highly of the quick and efficient customer service they received while working with Red Paper Plane. Taking care of our clients is top priority, so this was music to our ears.
The outcome was a huge success in the eyes of Jasmine and her team. "We loved the Hexagon Pen Pot. It was so easy to fold out and pop into place. The counselors were thrilled and very appreciative of the gift boxes they received."
A memorable gift, with a practical and useful design makes for an unforgettable experience. We can't wait to see the outcome of such a fun project.