Get your FREE Sample Pack today:Higher Ed Sample Pack
Who: The University of Notre Dame
Their Industry: Higher Education
Their Audience: Current and Prospective Students
Their Challenge: Promote the value of language and cultural studies for all Notre Dame students regardless of major
Our Solution: Flapper® - Medium
The Main Pro: The Flapper is hard to put down and naturally draws attention to its interactive design
The University of Notre Dame is consistently ranked among the nation's top 20 teaching and research institutions and the world's leading Catholic institution of higher learning. As the oldest and largest college at Notre Dame, the College of Arts and Letters prides itself on housing nearly 70 majors and minors, top-tier graduate programs, and an award-winning faculty. They chose the Medium Flapper® from Red Paper Plane to illustrate the value of language and cultural studies for all Notre Dame undergraduates, regardless of their major.
When Kate Garry, Director of Communications and Marketing with the College of Arts and Letters, saw an ad for Red Paper Plane, she knew she had to order a free sample pack to see the pieces for herself. She was immediately drawn to the Flapper® and thought it would make a great direct mail piece to distribute to new and prospective students. We sat down with Kate and staff graphic designer Heidi Henke to discuss their experience.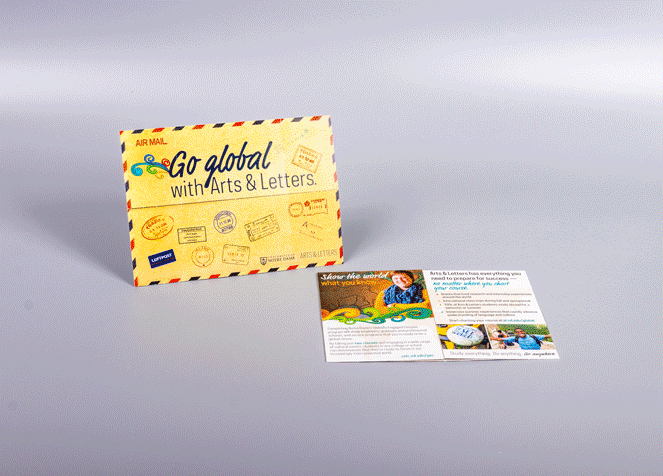 They spoke about how the piece was a part of a more extensive campaign that promoted the numerous international engagement opportunities within the College of Arts and Letters like study abroad and language classes. Kate said, "we wanted to do something with this particular piece because it gives you a sense of travel as you work through the brochure. The campaign is about global engagement and the intersection of all the different programs we offer, and this piece was perfect."
When their team received the Medium Flapper® in the mail, they were impressed by its quality and interactivity. "We couldn't stop playing with it! Everyone loved flipping each of the panels. We thought that if we can't put this down, our prospective students will feel the same way," Kate said.
New and prospective students receive a lot of informational materials at various program fairs and visitation days. Kate and Heidi knew they wanted to give the students something that would stand out from everything else they were receiving. It worked, Heidi said. "We actually caught students playing with it in the hallway!"
It sounds like the students love it, and we couldn't be happier that they do.